Where can I find the best charter bus rental near me?
If you're in Ohio, you've already found one of the highest-rated coach bus transportation bus rental companies near you. Based in Cleveland and Columbus, Barons Bus offers luxury motorcoach charter and tour bus rental service to nearly all Ohio locations to destinations throughout the United States.


What kind of bus rental service does Barons Bus offer?
We have charter buses available for any occasion! We provide cross-country and local charters for birthday parties, corporate events, wedding party bus travel, athletics programs, school bus travel, churches, and more.

If you're travelling a short distance with a smaller group, no problem! We offer shuttles for city tours and airport transportation. Select a Barons charter bus service that best fits your needs after the jump, and learn more about how you can Ride Like Royalty.

What kind of vehicles do you have available for bus rental?
Our fleet consists of 56-passenger luxury motorcoaches customized with free WiFi, GPS tracking, seatbelts, comfortable air conditioning, flat-panel TVs, and much more. Every bus in our fleet is a 2017 model or newer. You can learn more about the Barons Bus fleet here, or read more about our expert maintenance team here.

Barons Bus has luxury motor coaches, but what about mini buses?
Mini buses are convenient for short distance travel or a quick ferry from the airport. However, most of that convenience is for the mini bus rental company, and not its passengers. Mini buses tend to have stiff suspensions, no restrooms, and will even occasionally lack air conditioning.

We want our passengers to have a uniformly luxury experience in our motor coach vehicles, whether they're chartering across the country or simply getting a ride to the airport. Focusing our efforts on luxury motorcoach vehicles allows us to do this.

Does Barons Bus provide drivers for long distance travel?
Of course we do. In fact, our drivers are specially trained for operating our vehicles for long distance travel. The safety of your group is of the utmost importance to us.

One of the most common comments we get for our drivers is that they enhance our customers' riding experience 100%. At Barons Bus, don't just transport passengers, we transport people.

How do I get started with my charter bus rental?
It's super easy. If you need a charter bus rental in Ohio, call us at (888) 378-3823. Our customer service agents are standing by to help you plan your trip over the phone. Prior to contacting us, it's helpful to have a rough plan of your bus trip, the nature of your travel, and how many passengers will be included in your group.

You can also complete our online charter bus quote request form and we'll contact you shortly. Whether you call or submit your quote request online, you'll get a fast, fair, and free quote on your charter bus price.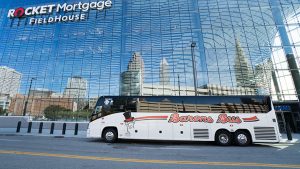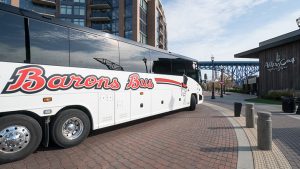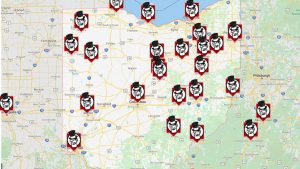 Select a Charter Bus Service that fits your needs.
1-888-378-3823